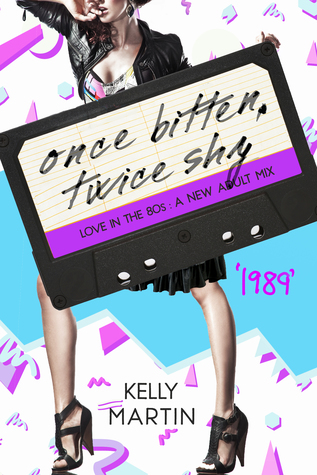 Title:
1989: Once Bitten, Twice Shy (Love in the 80s #10)

Author:
Kelly Martin
Genre:
Romance, Short Story




Rating:
5 out of 5 fairies






Where to buy: Amazon
Synopsis: Nancy Corbin makes a living screwing with the minds of Nashville's less than upstanding men. As the owner of the underground business, Once Bitten, Nancy makes it her mission to give scorned women the justice they deserve. She lures in the man who has wronged her client, flatters him with her considerable charms, then strikes. It's only business. Until the ex-girlfriend of tabloid-proclaimed Romeo, Chad Harris, comes in. According to the ex, Chad is the worst Nancy has ever had the pleasure of manipulating. However, after their first encounter, Nancy isn't so sure. As business becomes pleasure, will Nancy be able to finish the deal? Or will Chad prove to be more of a challenge than she ever realized?
About the Author: Kelly Martin is the bestselling author of contemporary, historical, and YA romance. She has been married for over ten years and has three rowdy, angelic daughters. When Kelly isn't writing, she loves watching horror gamers on YouTube, even though she is a huge wimp, and drinking white chocolate mochas.
Review:

A fresh take on the romance short story. I absolutely loved this book. A fast, good read, that you will want to read in one sitting. (Word of advice: clear your schedule before you start!) My experience with this genre is that you're often left feeling like something was missing, but Kelly Martin manages to pack a lot into a short space. Treat yourself and spend a few hours in the world of the 1980s. Even if you weren't there to experience them first hand, Martin gives the reader a solid glimpse into the life of a young college student just trying to make it by when love throws a wrench into the mix. I look forward to reading other books by Kelly Martin!